USGB Recognised Exams in Ukulele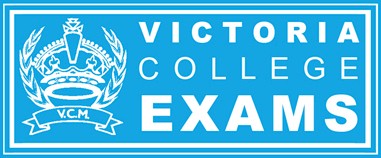 As part of our mission to "...establish and promote an interest in the playing of the ukulele..." the USGB has been looking into the possibility of promoting ukulele examinations.
After extensive talks, we are pleased to be able to announce that we have reached an agreement with The Victoria College of Music and Drama (VCM) in London to partner with them in the area of exams in ukulele playing, as a result of which, the following joint press release has been issued.
Victoria College of Music and Drama, London
and
The Ukulele Society of Great Britain
Victoria College is delighted to announce a new partnership with the Ukulele Society of Great Britain. VCM was the first UK awarding body to offer assessment in the playing and teaching of ukulele, while the USGB has promoted the playing of the various forms of the instrument since 1970. Following discussions both parties are delighted to formally partner each other in the further development of the instrument and its playing.
The USGB is delighted to formally recognise the VCM Ukulele Playing Syllabus as its officially endorsed programme of assessment for the Ukulele and related instruments. VCM acknowledges that the USGB is the leading proponent of the Ukulele in Great Britain and wholeheartedly supports its aim of encouraging the performance and promotion of ukulele music in the UK. We look forward to developing our relationship in the coming years.
The Victoria College of Music and Drama, London Ltd, is an independent body providing examinations in Music, Speech, and Drama subjects. It has held examination sessions at local centres throughout the British Isles and certain overseas countries since it was founded in 1890.
The VCM's Subject Consultant for the ukulele is Colin Tribe, CertEd FVCM FRSA. Most of our readers will know Colin for his excellent ukulele books and videos and for his many appearances at festivals and workshops around the country (and not least for his workshop to be given at the USGB's Spring 2020 Convention in April).
How to get started: Click Here
Comparisons with Other Examination Bodies
VCM Grades 1 to 8 are intended to compare on a level for level basis with the grades 1 to 8 of other similarly recognised examination boards. In addition to Grades 1 to 8, VCM examinations are available at several introductory levels prior to Grade 1 as a means of encouraging beginners, or students with special needs. Medal and Diploma examinations are also available in all subjects.
Examination Subjects
As well as examinations for many other types of instrument, and for speech and drama, the VCM has examinations in two subjects that will be of interest to ukulele players:-
Examinations in Ukulele Playing: These exams concentrate on 'finger style' (or "chord melody") with an emphasis on playing music from tabs together with scales, sight reading and questions on musicianship.
Get the exam syllabus here.


Examinations in Self-accompanied Singing: These exams are designed for people who wish to sing a song whilst accompanying themselves on any instrument, but of course a ukulele would be an excellent choice for this. The exams also include sight reading and questions on musicianship.
Get the exam syllabus here.
How to Get Started
We have produced a separate web page to tell you how you can get started. You can find the "Getting Started" page here
---
Visit the Victoria College web site - https://vcmexams.co.uk/ .
Examination syllabuses can also be found on the Downloadable Resources section of the "Resources" page.